Genre: New Adult, Paranormal
Time passes, sins forgotten.

The bodies of the victims long since rotten.

Trapped within the essence of the Headless Horseman by the guilt of slaughtering her best friend, Ireland Crane follows the father of science fiction, HG Wells, in search of freedom from the curse that binds her. Instead, she discovers even he has a hidden agenda. A dark, relentless passion to be reunited with the woman he loves has driven him to manipulate time and a murderous Horseman.

Yet heed my warning, as the Raven flies,

The Hessian will come … and you will die.
All that prevents Ireland from abandoning Wells' twisted pursuit, or introducing him to her sword, are the undead witches haunting her. Begging for freedom from a vile succubus, the ghoulish coven leads Ireland and her crew on a journey through Salem's sordid past. There, they learn there is more to Nathaniel Hawthorne's history than a scarlet letter, and the secret they've uncovered seeks to destroy them all.
____________________________________________________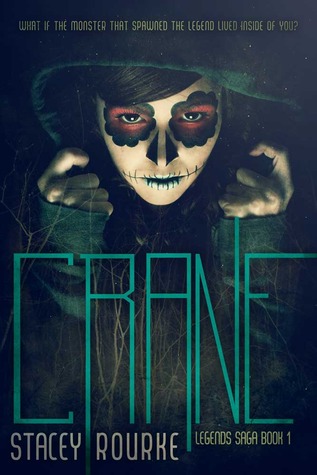 I was given an ARC in exchange for an honest review free of persuasion from the author or anyone else affiliated with this book.
Stacey Rourke has hit it out of the ball park with this one for me. I went into the book expecting a normal paranormal book from her. What I did not expect was a telling of Ichabod Crane from the past and joining it with the present with the Headless Horseman living on. The adventures of Ichabod and Ireland Crane live on in CRANE through the delightful Rip Van Winkle. Not who you would expect to be the one telling Ireland, who is living in this century, the story of how Icabod met his untimely death with his first hand knowledge. I was so memorized by all of the activity and the going on of the Headless Horseman in this century that I didn't even notice the little clues on who it was until it was revealed.
I highly recommend this book to anyone of the ages 15+ because of some of the gore factor and a few sexual innuendo's. Other than that I highly recommend this book! I know for a fact that this will be a book I will go back to and reread just so I can see if I get all of the little hints the second time around.
5 Stars
I was given an ARC in exchange for an honest review free of persuasion from the author or anyone else affiliated with this book.
Stacey Rourke has done it again. I kind of knew what to expect going into this book, however she gives first person perspective on most accounts. The author did give a roller coaster of a ride through some of the events. I didnt know what was going to happen to who next. This time we are seeing Edgar Allen Poe from the past and joining it with the present of Ireland Crane and the Headless Horseman again. I hope by now I have not spoiled anything when telling you that Ireland and the Headless Horseman are one, but she seems to have a hold on Horseman for now.
Growing up I always loved Edgar Allen Poe and knew he was crazy, but the way Stacey tells it makes you want to believe the black magic that was woven into his life at birth and not just all the alcohol that he consumed later in life that was originally told. Does he possess such a special gift as to bring back the woman he loves? Is that part of the truth or is it all a mystery? Did Poe take up writing because he wanted to or had to? Can Ireland keep the Horseman inside of her at bay or is she going to kill again? Who is the mysterious Herbert George that keeps popping up in the book with the group of people? Does he keep them all at bay or is he the reason behind all this insanity? I will give you one hint, not is all as it seems in the RAVEN.
You are going to have to experience this book of twist and turns for yourself to find all the answers out. I recommend this book for anyone 15+ for the gore factor and sexual innuendo's as well, just like CRANE. I know I will be picking up more of her work because I am highly addicted to her Legends Saga now! Please run, don't walk and go get your copy now!
Review for STEAM:
5 Stars
I was given an ARC in exchange for an honest review free of persuasion from the author or anyone else affiliated with this book.
Just when you think Stacey has blown your mind with who is the master mind behind the characters in the books she throws a bombshell in there for one last measure. Just like the other books focusing on events in history that could have been a focal point, but written different for literary purposes - according to Herbert Gilbert- this one is just the same. STEAM focus' on the Salem witch trials and Nathaniel Hawthorne's Scarlet Letter. Yes, the Horseman was back with all her glory. This time around the end of the world's fate rested on her shoulders as they had to find out what happened with Roanoke Island.
So many sub-plots leading up to the final showdown in STEAM. Who makes it out alive? Does the Headless Horseman finally live up to her name, and become headless? Can anyone tame the beast inside Ireland? Who was Nathaniel Hawthorne? Why was he important to the Salem Witch Trials and the Scarlet Letter or did he just write the fabricated history? We found out who the master behind the scenes is, however who is the new guy and what is his relation to Herbert Gilbert? The most important question - Is this the Horseman's final ride?
WOW! What a book! I hope this is not the last we see of the Legends Saga. I have throughly enjoyed every bit of Stacey's work going through each event in history and her side of the tale. This book, while darker than the others, still is highly recommended to everyone I know, 15 and up of course. There is major gore factor and suggestive material for the younger eyes however I do believe that teens could still read this and be OK, just not young ones. This recently release novel needs to be picked up along with her other two works in the saga. Please go get them now and I really hope she continues to write more. Thank you Stacey for an epic ride through history! A top 5 book set in my eyes this year!
____________________________________________________
____________________________________________________
-RONE Award Winner for Best YA Paranormal Work of 2012 for Embrace, a Gryphon Series Novel
-Young Adult and Teen Reader voted Author of the Year 2012
-Turning Pages Magazine Winner for Best YA book of 2013 & Best Teen Book of 2013
Stacey Rourke is the author of the award winning YA Gryphon Series as well as the chillingly suspenseful Legends Saga. She lives in Michigan with her husband, two beautiful daughters, and two giant dogs. She loves to travel, has an unhealthy shoe addiction, and considers herself blessed to make a career out of talking to the imaginary people that live in her head.
____________________________________________________